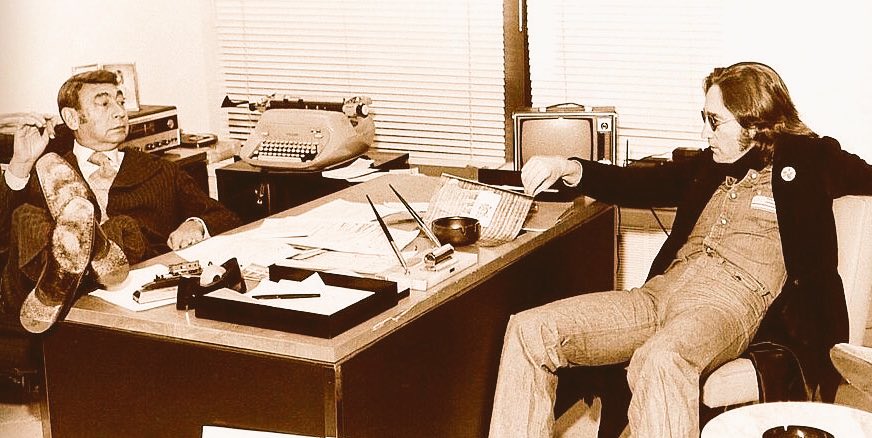 It has been 39-years since John Lennon was shot and killed by Mark David Chapman in Manhattan.
Like many I learned of Lennon's death via Howard Cosell while watching the Patriots on Monday Night Football
.
Gerard Vanderluen has a much more personal remembrance of the death of John Lennon which he reposted today.
Lennon was an infinitely interesting guy who counted among his friends people you may not have expected like Peter Boyle (John Lennon was best man at Boyle's wedding) and Monday Night Football's Howard Cosell.
It can't be denied that
Lennon's cultural significance is beginning to fade
. As is even more true of his friends. When's the last time you thought of or heard Peter Boyle, Howard Cosell or Harry Nilsson mentioned in conversation? Life is fleeting and fame only slightly less so.
I still can't help but think of a "what if" situation. After shooting John Lennon - Mark David Chapman just stood around waiting to be arrested. What if he didn't? What if Chapman just stuffed the gun in his coat pocket and just started walking away? A slightly over-weight, average height white guy in a city with millions of people matching that description. He had no motive that the police would have been able to discern on their own. How could they have fathomed that they were to look for a guy who was delusional about being Holden Caulfield from
The Catcher in the Rye
. If Chapman just walked away would the police have been able to find him? Would we have to this day all sorts of conspiracy theories about "who really killed John Lennon"?